Description
Private Felucca Trip 3 days / 2 Nights Aswan – Kom Ombo – Edfu – Gabal El Silsila – El Kab – Luxor
Day 1: Aswan / Private Felucca / Sail in Nile / Overnight in Island nearby Kom Ombo / Overnight
Early morning, Kemet Travel representative will Pick you up from hotel to a private Felucca boat ( 6 or 7 am ) for a hole day sail , we will sail for about 10 to 12 hours in The Nile River – start sail north of Aswan and down the river toward Kom Ombo , a soft drink and tea will be offered to YOU, Lunch will be served in boat by local crew, more sail toward Kom Ombo, at the sunset time we will moor for the Night in an Island , a walking in countryside and Nile Edge to enjoy landscape , dinner will be served in the island, overnight under sky stars, (Soft Drinks, Tea, Large Bottle of Water each, Lunch and Dinner)
Day 2: Kom Ombo / Sail the Nile / Visit Gabal El Silisla / More sail to an island nearby Edfu / Overnight
Early Breakfast on board, more sail in the early morning to reach Kom Ombo – check out the board – with our private expert Egyptology English speaking guide to start a tour to visit the Crocodile God Temple of Kom Ombo where view the remains of an ancient mummified crocodile, after the sight visit, back to our Private Felucca , more sail in Nile  to reach , reaching to Gabal El Silsila , a guided trip to the ancient  remains site of  Gabal El Silsila , more sail in NILE to reaching an amazing Island Nearby Edfu, a soft drink and tea will be offered to YOU, Lunch will be served in boat by local crew ,  at the sunset time we will moor for the Night in an Island , a walking in countryside and Nile Edge to enjoy landscape , dinner will be served in the island, overnight under sky stars.(Breakfast, Tea & Coffee , Large Bottle of water each / Private guided tours to Kom Ombo & Sail on The Nile / Overnight in island nearby Edfu )
Day 3: Edfu – A/c Touring vehicle – Luxor
 Breakfast in board, early morning sail to reach Edfu, check out, a guided tour to visit the Edfu, the most completely preserved Egyptian temple, the Temple of Horus in Edfu, we will spend the time we love and later after the site visit, Travel by Road in our private a/c Touring Vehicle, END of our day and travel by road to reach LUXOR. (Breakfast, Tea & Coffee, Large Bottle of water / Private guided tours to Edfu)
Inclusions
 Private Felucca  from Aswan to Luxor 3 Days 2 Nights , including all Meet and Assist upon arrival & Departure 2 nights' accommodation in private Felucca from Aswan to Luxor , all ground services of pick up and drop off , all  Entrance fees to all mentioned sightseeing Qualified English speaking Egyptology guide Meals as per itinerary (B=breakfast, L=lunch, D=dinner) , soft drinks , afternoon tea or coffee ,  Shopping tours during the time you love , all of Assistance of our personal during the tour Portage when needed , Transport by  private air-conditioned minivan Round-trip from Aswan to board of Felucca and from Edfu to Luxor.
 Exclusions
 Extra Drinks, Gratuities (optional), any Entrance fee not mentioned in above Trip plan (where applicable)
Private Felucca Trip 3 days / 2 Nights price:
1 Adult × $350.00 USD = $ 350 USD
 2 Adult × $225.00 USD = $ 450 USD
 3Adult × $200.00 USD = $ 600 USD
 4 Adult × $ 175.00 USD = $ 700 USD
 what's felucca
A felucca is a sea-craft, made according to a traditional design, with broad canvas sails. Essentially, the craft is reliant on wind-power with no motor, and are dependent upon the wind factor to propel forth, so itineraries are subject to change from time to time. The Felucca carries from 1 up to 10 persons comfortably and the deck is strewn with soft colorful cushions and rugs and equipped with a canopy that offers shade and protection from the sun. felucca sails for a trip in Cairo or if you are in Aswan, you can enjoy Felucca from Aswan to Kom Ombo, Edfu, Luxor, taking in some stops at points of interest, planned or impromptu, the peaceful routine of life aboard allows us to escape the stress of everyday life! We dock at the shoreline for dinner and later sleep under the stars and the moon
Accommodation is on the boat deck itself. There are no ablution facilities aboard, however, the captain makes regular stops en-route, for both sightseeing, ablutions and indeed swimming in safe areas of the Nile River, where the water is fast flowing and the swimmer is at minimum risk of contracting bilharzias. All meals are included in the cruise and cooked on board by the crew.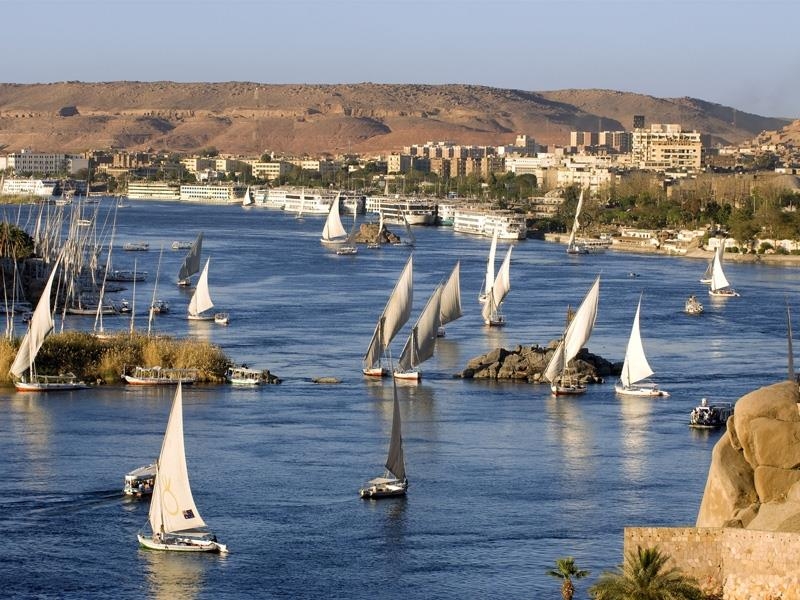 Traveling down the Nile by felucca is a 'must-do' in Egypt. The sun setting across the Nile in the evening aboard a graceful felucca can't be beaten! Please be an environmental friend. While on the Nile please place all toilet paper and sanitary items in the bags provides and we will dispose of them.
What to pack on board
If you will stay on board for nights Sleeping bag Sun-tan Lotion Bug Spray Personal towels Beach attire Cotton T-Shirts Toilet paper/ sanitary products for your journey Walkman's Warm clothes for you, it does get slightly cold in the evening and in the early hours of the morning Torch Plenty of film for your camera. Snacks for yourself throughout on board If you have a weak stomach bring some medications for Diarrhea and Vomiting with you
Drink plenty of water whilst on the felucca so you do not get dehydrated as in summer it can reach up to 41 degrees.
felucca captain and crew
The felucca captains (crew) are totally responsible about making it sail and stop in some routes, also they cook all the meals on board
Water, soft drinks, and beer can be purchased aboard at very reasonable cost, a tally for which is kept. You are not permitted to take on board any drinks that the crew sell. Drinks for sale will be stored in a cold box and the crew will ensure they are kept icy cold. On the last day, everybody pays his or her drinks bill to the felucca captains.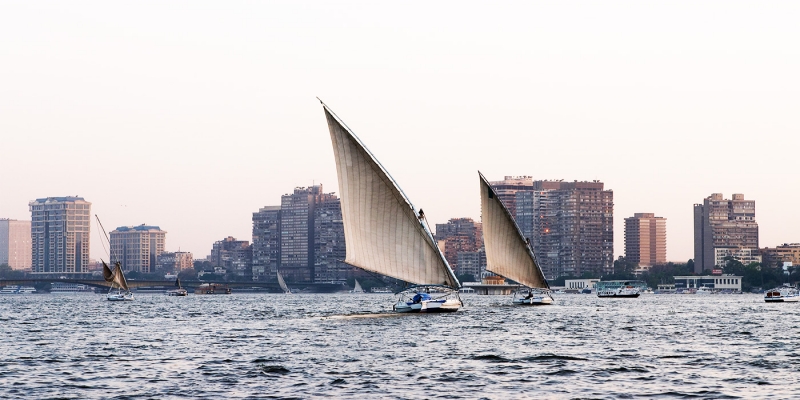 facilities on felucca
There are no toilet facilities on board. You can use the toilets provided at the sites you visit during the day, at night you are moored by the riverbank and will need to find somewhere onshore. In general, and that is why it is a real adventure, you can use the toilets in the sites (temples & museums). The general standard of public toilets, when you can find them, is to a poor hygienic standard. Most come with a water squirter for washing yourself, so always have toilet papers with you!
Entertainments on felucca
Our felucca crew entertains you with their music and dance have fun and join them, also you can play cards, read a book, swim, or help the crew in preparing the meals.